Technology Director
Company Webcast

For our client Company Webcast we are looking for a solid Technology Director with demonstrable affinity with digitization and experience in leading a SAAS development & support team. You are primarily responsible for the vision and strategy on the Company Webcast Technology, as well as the continuous improvement and delivery of the Company Webcast technical platform, allowing their customers to experience an optimal experience.
 
ABOUT COMPANY WEBCAST
Our client Company Webcast BV, HQ based in the Netherlands, provides high-end webcast and webinar solutions to more than 600 corporates and local governments, through a state-of-the-art platform using the most advanced technology. Company Webcast can handle all aspects of organising, recording, broadcasting and archiving of webcasts, making it possible for the customer to focus on other priorities. The company offers flexible and tailor-made formats, depending on the customers' needs, i.e. video or audio webcasts on location, conference call webcasts, highly interactive professional studio webinars and self-service webinar licences.
 
Since February 2017, Company Webcast is part of the Euronext group and rapidly expanding in the Euronext Countries. Euronext Corporate Services offers innovative solutions and tailor-made advisory services to support the listed companies' journey on the capital markets: Governance, Communication (Company Webcast), Compliance, Investor Relations.
 
Read more at: https://www.companywebcast.com/nl/
 
ORGANISATION
In the last 3 years Company Webcast evolved from a local Dutch player to international strong brand in high- end corporate live video communication. In order to keep with its strong and innovative brand our client is delivering a new high-end platform to deliver next gen live video communication.
You are part of the Company Webcast management team consisting of: Sales & Marketing, Operations, Technology, Portfolio Management, HR and Finance. You report to the Managing Director.

Functieomschrijving:
JOB DESCRIPTION
As part of the management team of Company Webcast you are responsible for the vision and strategy on the Company Webcast Technology, as well as the uptime and performance of the platform. It's key for our client's customers to rely on the Company Webcast platform to communicate effectively with their stakeholders.
 
You work closely with the Product Manager who is responsible for maintaining and expanding a successful product portfolio that fits within the various product market combinations.
 
As Technology Director you are responsible for the development, support and operation of the Company Webcast digital platform. You manage a team of around 10 internal/external developers and support engineers. Together with your team, you work daily on the further development of the various components, from front-end to back-end, based on cloud infrastructure.
 
You are able to create a culture and process that supports innovation and actively participate in the day-to-day management of the team. You involve all stakeholders, both in- and outside the company by working closely with people within the Euronext tech environment (Dev-Ops team, infosec). And align the business needs with an eye for security.
 
Your core responsibilities include:

Align the technology strategy with the overall strategy.
Forecast, plan, research and select new technologies enabling the company to achieve the business goals.
Continuously develop and innovate the technical platform to fulfil the current and future requirements.
Interact with business partners across the organization to identify opportunities and drive growth.
Identify and execute on business process improvements related to technical applications, systems and client implementations.
Manage the software delivery and support team.
Manage the operations (uptime & performance) of the platform.
Participate in key customer meetings to support the sales team on technology.
Negotiate and manage critical vendor relationships.
DOWNLOAD THE EXTENSIVE JOB PROFILE>
Functie-eisen:
JOB PROFILE
We are looking for a Technology Director with extensive experience in the following:
 Master's degree;
Minimum 5 years of relevant experience in senior management role;
Extensive experience in the field of IT development and IT continuity, both in a delivery and managerial role;
Knowledge of and experience with SCRUM teams, team building and team management including HR responsibility;
Minimum 5 years of relevant experience with a SAAS production environment;
Up to date on web technology;
Relevant experience within an international (corporate) environment;
Entrepreneurial mindset.
You should have the following properties:
Analytical skills;
Strong communication and relation management skills.
Team player with perseverance;
Pro-active mindset, result-driven and flexible;
Being part of an ambitious growth project, backed by the leading pan-European stock exchange;
Contribution to the company's growth and strategy;
English language skills (written/verbal);
Arbeidsvoorwaarden:
TERMS OF EMPLOYMENT
Be part of a young scale-up company that is already mature in its processes and customer base. You are offered a full-time contract and can count on a competitive salary package with fringe benefits like, laptop, travel costs etc.
Last but not least our client is part of Euronext which means a financially stable and international growth company with a strong vision for the future. Company Webcast invests in an environment in which you continue to learn. You get freedom, responsibility and a pleasant working atmosphere with the space to innovate and do business. Your working location is Rotterdam, however partially working from home is facilitated where possible.
 
JOB APPLICATION
The recruitment and selection procedure is carried out by InterExcellent. Based on the motivation letter and CV selection, candidates are invited for an exploratory interview at InterExcellent. The most suitable candidates are then nominated to the selection committee at Company Webcast, which decides with whom they wish to meet. An assessment could be part of the procedure and references may possibly be verified.
 
Are you a motivated candidate who wants to contribute to the digital ambitions of Company Webcast? And do you have the knowledge, skills and personal leadership to make this happen in practice? Then we look forward to receiving your application.
We would like to receive applications (a job-specific motivation letter plus CV) as soon as possible (but no later than Wednesday 21st of April 2021) via www.interexcellent.nl.
 
CONTACT
This procedure is carried out by Sietse Bergstra, partner at InterExcellent, Baarn. Tel: 035 - 5280430, www.interexcellent.nl.
  
We look forward to your response and/or application!

Deze vacature is reeds succesvol vervuld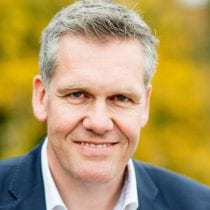 Drs. Sietse Bergstra
Managing Partner
We ondersteunen organisaties om hun keten van IT en IV weer werkend te maken.